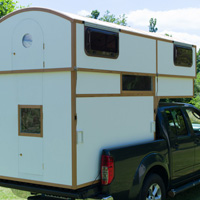 The Slidacab is raised to pick-up height using a couple of simple car jacks, a pair of step ladders and two simple wooden stands. It can be fitted to the vehicle by one person.


Woodenwidget will plant 5 trees on your behalf if you buy any of our plans.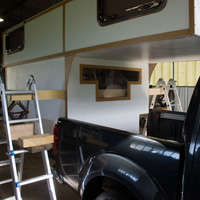 The telescopic roof raises on four gas struts in seconds. When down it reduces the area of the Slidacab so you don't have to drag a huge shape through the air. Thanks to its light weight, small frontal area and a wind deflector you won't notice the Slidacab as much as some other larger campers you can buy. Most of the weight of the Slidacab is low down and in front of the rear axle making it very stable and safe. It is held down with ratchet straps and is very secure.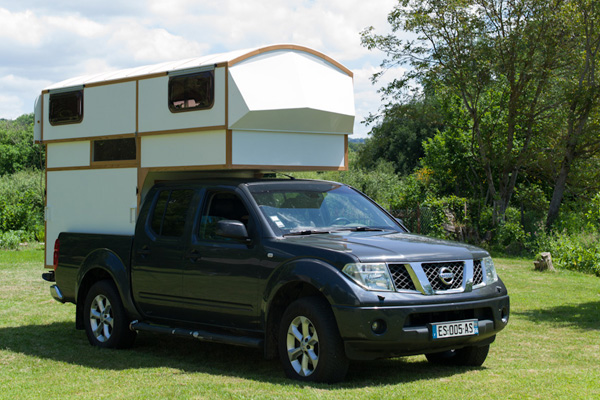 The bright and spacious interior consists of two settee bunks wide enough to sleep on or by simply dropping in the seat backs, a very wide double bed can quickly be made. There is a good sized table which bolts to the front panel. Above the settee bunks is a full sized double berth which can folded away in moments when not in use. There is a huge amount of storage under the bunks and even a small gas hob and sink hidden under one of the bunks.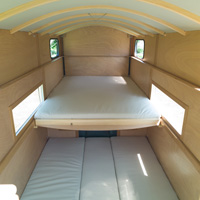 The Slidacab is a lightweight 4 berth telescopic camper designed to fit on a pick-up truck. It only weighs about 300 kilos unladen and so can easily be carried by even the smallest of trucks. The Slidacab in these pictures has been fitted to a Nissan Navara but the plans explain how to make a Slidacab fit your particular vehicle. The Slidacab is fully insulated and has well over six foot of headroom throughout. It has one full sized double bunk and two single bunks which can also become a large double if required.
The step by step illustrated instructions walk you through the entire build process. They include a lot of further information on all aspects of the build, from the materials you need and how to find and modify them. Unlike a traditional camper, the Slidacab is constructed using the insulating layer as a structural element. This creates an extremely light but very strong structure. No specialist tools are needed to make a Slidacab but you will need one good flat work surface to construct the panels on.
The Slidacab plans are metric but allow for the use of Imperial materials. No special materials or skills are needed to build a Slidacab but it will take about 300 hours to make one. If you buy all new parts to build your Slidacab it may cost about 5000 Euros which is a fraction of the cost of other small campers available to buy today. The costs can be brought down considerably by using second hand parts.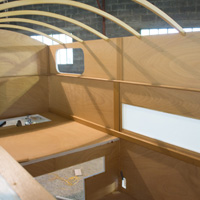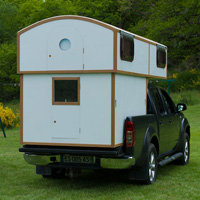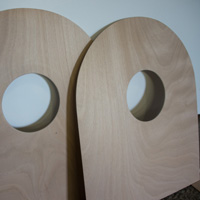 What makes the Slidacab special?