The Deckster. Taking practicality to a new level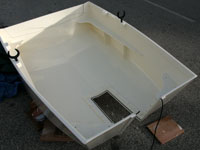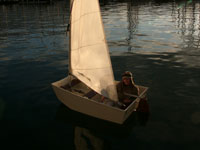 Every step is explained in detail, leaving nothing to chance. What kinds of wood to use, how to use them, wood working techniques, as well as comprehensive information about every aspect of boat building from sharpening and using tools to how to paint and varnish.
Pedal it, row it, motor it, sail it and stow it! The Deckster stowing dinghy does it all. The optional removable bow section allows this dinghy to find even a home on the smallest of cabin tops. Thanks to its innovative and well thought out design it is more capable than many other much bigger boats.
The Deckster can take an outboard up to 3.3 hp but it also rows well, and with the adjustable thwarts it is always possible to find a comfortable position whether alone or carrying a passenger. If you prefer not to row, then take a look at the Hobie Mirage Drive option. This incredible contraption takes the effort out of rowing by using leg power, leaving your hands free and allows you to sit facing the right direction!
The Deckster is also a fun little sailing boat that uses a modified Optimist rig. With either the fixed long keel, the centreboard or both, this dinghy offers great directional stability under sail. The Mirage Drive can also be used as a centreboard (by aligning the pedals) which conveniently eliminates the clutter of oars.
The Deckster is an open plan dinghy with fully adjustable, removable thwarts. It's wide stern follows the shape of the cabin top where it will be stowed, giving immense stability for such a small craft. The Deckster is very stiff under sail and surprisingly capable too. Not to mention great fun.
If you can use a tape measure and a jigsaw, then building a Deckster from our plans could not be easier. The fully illustrated instructions cover every aspect of construction, step by step. There are no patterns and no complicated offsets to worry about. It's a bit like a child's 'join the dots' puzzle in a sense.
The Deckster is built using the 'stitch and glue' technique, using plastic electrical cable ties which are readily available, inexpensive and easy to work. There are no screws or fastenings in the dinghy's hull at all. By the end of one day you will already have a basic dinghy shape.