The Woodenwidget Fliptail is a small collapsible dinghy available in 6 (1.8m), 7 (2.1m) and 9 (2.75m) foot long versions . Two sets of hinged hoops swing out to create a shapely but tough and lightweight dinghy which can be rowed or sailed and can even plane at speeds up to 14 knots with a 3.3hp outboard.
The Fliptail is very quick to assemble. Simply lift out the sides, drop the two hinged floors and lock in place. All the pieces remain attached to the dinghy so there are no pieces to get lost. The Fliptail can be assembled or collapsed in just one minute.
Because the floors are above the bottom of the boat, you never get a wet bottom. Handles are incorporated into the floors which makes it a doddle to move about. Fliptail is a very light little boat yet surprisingly capable and tough.
Small tenders are generally very tippy but the Fliptail has quite a square shape so is surprisingly stable for such a small and shapely boat. Having the fold down floors low down in the dinghy also means that your weight is down low which adds enormously to the boat's stability.
The Fliptail is a surprisingly easy boat to build consisting of a central keel assembly, a pair of drop down floors and four laminated wooden hoops. This structure is then covered with a strong PVC cloth. Don't be daunted by this construction method. Laminating wood is not difficult and in fact is lot of fun and is also very satisfying.
The comprehensive illustrated plans guide you every single step of the way so even if you never done anything like this before you will still be able to build your own Fliptail dinghy. Everything you will need has been listed and there are many links to lots of suppliers should you not be able to find what you need locally.
All of the ingredients that make up a Fliptail dinghy are readily available and inexpensive. A Fliptail could be built from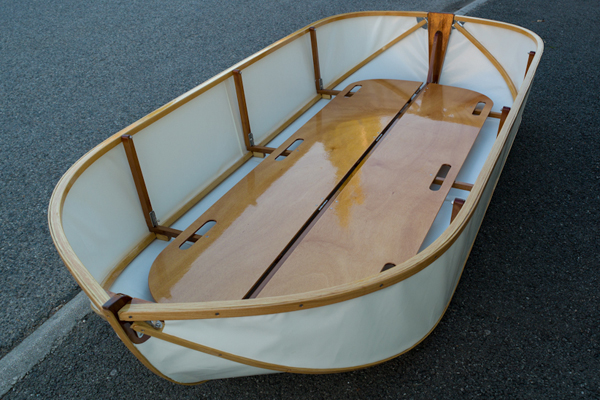 about 250 Euros but this figure can go either way depending on the quality of the materials you buy and where you get them.
As with all Woodenwidget boat designs, the Fliptail can be retro converted to a competent sailing dinghy at any time. A swing up lee board is fitted to one side of the boat and this simple addition allows the Fliptail to sail very well using it's modified Optimist rig.
If you want an easy to build and pretty little dinghy that stows and rows, motors and sails, maybe the Fliptail is the boat for you.
Watch some videos
here