some impression from my first trip!!! everything worked very well!
great!!! great design... regine 
Brigitte from Bavaria said;
I bought your plans for a foldavan quite a bit of time ago and have now finished the work. 
I just want to say thank you! The plans are perfect and it's been so much joy and a 
great experience to build the foldavan!!! You can see the result on the pictures. 
We've tried it during one weekend and slept really well. We're now off to Sweden.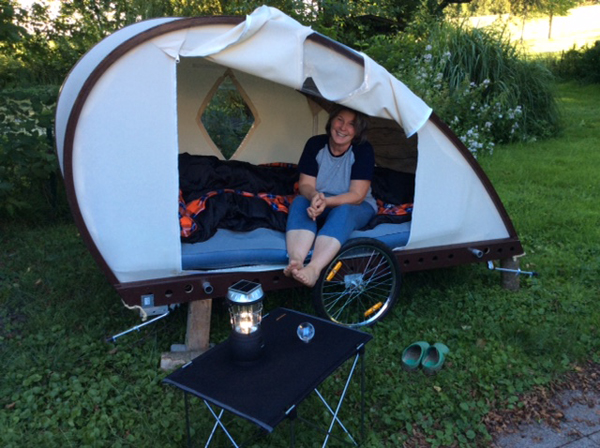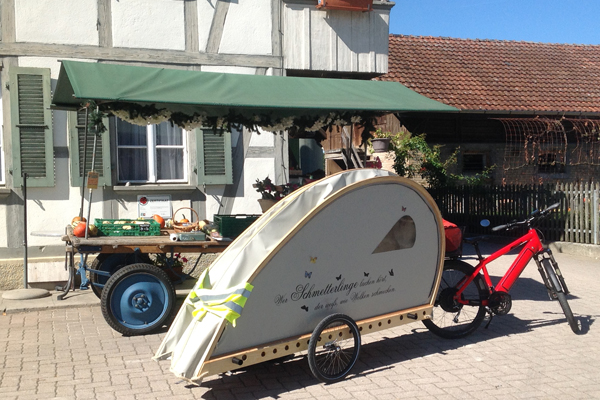 I am Regine from Bern Switzerland
I did fall in love with the Foldervan on the internet Picture!!!!! Because i was not able to buy the Foldavan I had to make it myself!! But never did do any work like this before. So I started with much Energy and could finish after 4 month and 280 hours!!!!!! But I did it. Where I live I have a workshop for everybody to use and I could use all machines I needed, first time in my life.But in the workshop I could aways ask people to show me how to make the machines working. Plans from Benjy with the pictures where very very good but still not easy. The Foldavan drives very easy on the bike and its a great feeling!!! have not slept in it but very soon I will drive to interkaken and give it a go!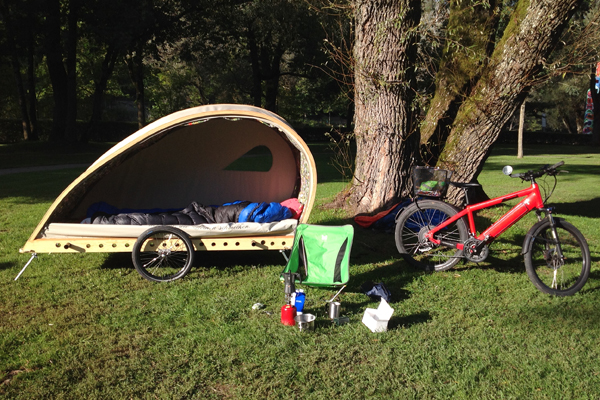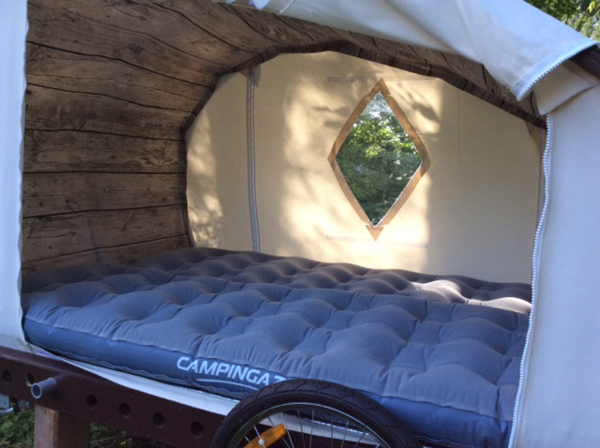 Honor and Lev took their Foldavan 'Franklin' through France, here's what they said:

Hello, I just wanted to tell everybody that my girlfriend and I took the foldavan on a two month trip through France in September/October and it didn't fall over once. Not once. Wind is not an issue. Also, when it was raining we stayed so dry and comfy and best of all off the ground! (Only way I could be convinced to camp). When we wanted to go to a different region we put the foldavan in stow mode and took it on the train. It even went on the TGV (high speed trains in France). Everybody along our route just loved it we made so many friends. We biked through the Loire, Alsace and Burgundy. I am not an experienced cyclist but I towed it 10 miles a day with relative ease. It was the coolest way to travel!